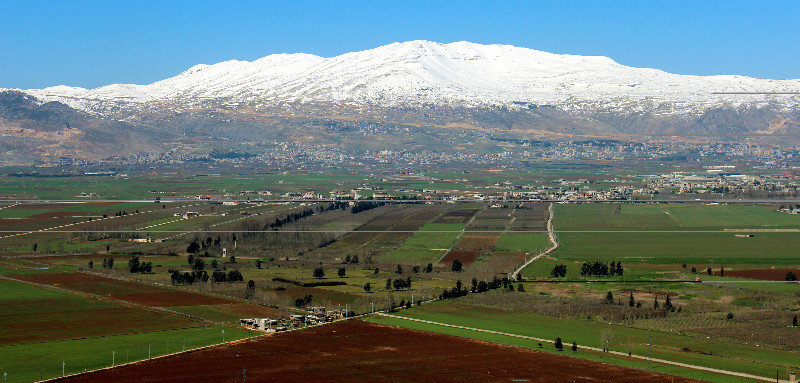 Bekaa
Bekaa lies between the two parallel mountain ranges in Lebanon. It is a very fertile land irrigated by the Litany river and is the largest agricultural area in Lebanon, with an advanced winery industry of international standards. It is the tip of the Great Rift Valley that stretches into Africa. The Phoenician inscriptions of 1400 BC has described the Bekaa as the 'Place for the Gods'.


Bekaa is also rich with archaeological sites and historical monuments scattered all over the region.
Anjar is an archaeological site excavated 40 years ago and one of the few surviving ruins of the 8th century umayyad period. Anjar was a hunting grounds and a resort for the traveling princes of the period. The city's walls and gates surrounding the twin palaces of the caliph are still intact till today. The remains of 600 shops indicate that Anjar was also an important trading centre that drew traders from all corners of the land. Arcades, engravings and symbols show the Roman-Byzantine influence on the umayyad architecture.
Baalbeck has the most fascinating historical sites with majestic Roman temples of gigantic size, the tallest ever erected columns, and largest stones ever cut, are still standing in perfect balance and harmony, deceiving at first glace, as to their actual size. A new temple has been discovered in 1995 and is being excavated and an umayyad mosque still stands in the city centre. Baalbeck, in the past, enjoyed an annual international festival of dance, music and drama staged at the Roman temples. This proud tradition will soon be revived.
Zahle, also known as the 'Bride of the Bekaa', because of its naturistic beauty and marvellous scenery. Located on the banks of the Bardouni River, where there are many riverside restaurants, famous for their cuisine.
Chtaura, another town also famous for its healthy dry climate and delicious foods served by its restaurants. Both Zahle and Chtaura serve as a resting base from where many historical sites can be visited a short distance away.
Hermel has two interesting sites: a pyramid believed to be the tomb chamber of a Syrian prince dating around the 200 BC, and the monastery of St. Maroun, a grotto carved in the mountain rocks.
What to See:
Baalbeck Roman Temples and Umaayyad Mosque

Anjar Ummayyad ancient city

Roman Temples at Niha near Zahle

Rock cut Roman Tombs at Furzol near Zahle

Noah's Tomb by the residents at Karak, near Zahle

Mysterious carvings at Qab Elias, near Zahle

Hermel's pyramid and Monastery of St. Maroun

Ksara winery near Zahle

Kefraya winery near Chtaura