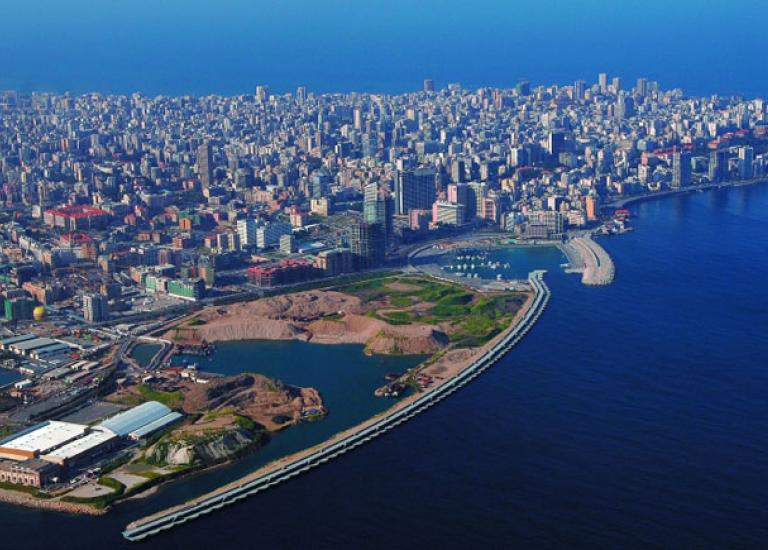 The capital and largest city of Lebanon and the seat of government. Historically, Beirut has been rebuilt several times after being inflicted by two earthquakes, a fire, a tidal wave, conquerors, and in recent times,17 years of civil war; and yet, somehow, it's never enough to keep the city from recovering her former beauty and splendour.

It is the gateway to three continents : Europe, Asia and Africa. A bustle of activity from business to leisure with busy commercial centers. Beirut is full of contrasts. Tall modern buildings alongside very old and historic structures stand side by side to give Beirut its unique atmosphere, combining the future and the past.
Business activity is booming with 80 banks, export and import agents, a busy port, an international airport, exhibition centers, flights from 28 airlines, free exchange market, seven universities, countless restaurants and hotels, retail shops and supermarkets, alongside construction work at every corner and the huge Solidaire project of rebuilding the inner city of Beirut.
At the same time restoration work of historical places, the museum and unearthing of new archaeological sites are being preserved to enrich Beirut's unique style.
A stroll down Beirut's high streets will please any visitor. From the latest technology in electrical and
electronic products, fashion directly from Europe's most famous designers to local handicrafts and beautiful jewelry at affordable prices.
What to See

The Roman Baths behind Bank Street
Roman Columns to the West of St. George's Cathedral
The Great Seraglio from the Ottoman period
Council for the Development and Reconstruction housed in what used to be an Ottoman military hospital.
Omari Mosque
Municipality Building
Assaf and Amir Munzer Mosques
Parliament building
The Roman Columns in Nejmeh Square
Historic Churches of the Greek Orthodox and Greek Catholic opposite the Parliament
Museum of Archaeology of the American University of Beirut
Beirut's famous Pigeon Rocks at Raouche
Beirut's Famous Racetrack breeding pure Arabian horses
Vast streets littered with pubs, bars and clubs with an extensive variety in taste and music
Where to Stay

Beirut enjoys first class luxury hotels and various other high standard reasonably priced accommodation and furnished apartments. Prices vary to meet all budgets.
Food and Drink
The restaurants provide a large food variety to satisfy all appetites. The famous Lebanese Mezza, European foods, Italian restaurants, Chinese, Japanese plus various fast food outlets serving pizzas, hamburgers, shawerma, falafet, and countless other snacks, ensuring nobody goes hungry in Beirut. Many are open 24 hours a day. There are no restrictions on the sale of alcohol and parties normally continue until dawn.