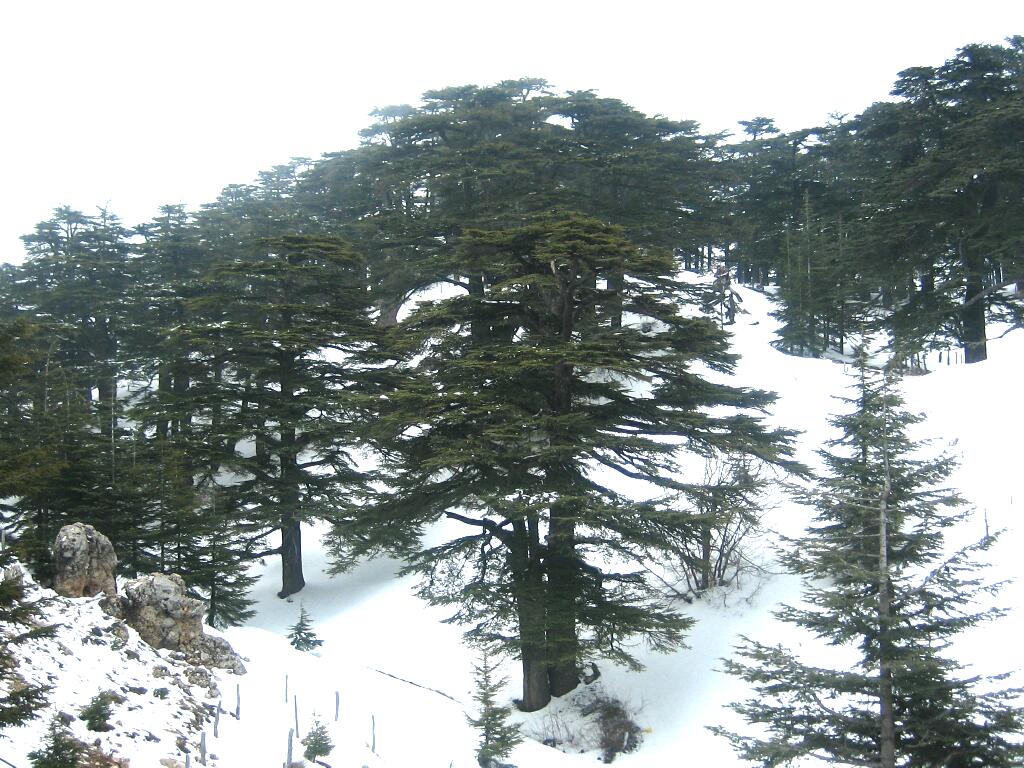 THE CEDARS
Simply known as the "The Cedars," this resort settlement in Lebanon's highest range is one of the most dramatically beautiful spots in the country. Its centerpiece is an ancient grove of cedars, a tree synonymous for millennia with Lebanon itself. Just below The Cedars is the town of Bsharre, birthplace of Gibran Khalil Gibran.
History
The Cedar is an historical entity mentioned often in the Bible and other ancient text and it played an important part in the culture, trade and religious observances of the ancient Middle East. Serious exploitation of these forests began in the third millennium B.C., with coastal towns and the timber trade with Egypt.
The Phoenicians themselves made use of the cedars, especially for their merchant fleets.
Solomon requested large supplies of cedar wood, along with architects and builders from King Hiram of Tyre to build his temple.
SKIING IN THE CEDARS
The scenery and the quality of the snow make The Cedars an exceptional skiing venue. The pistes form a natural amphitheater, and the high elevation means the season usually lasts from December through April.
There are also four baby ski slopes with lifts. Snack bars, hotels and restaurants service the ski area.
Hadeth al-Jubbeh A town which goes back to at least the early 6th century A.D. with a wonderful view of Qadisha valley.
Diman The summer residence of the Maronite Patriarch since the 19th century. The site overlooks the Monastery of Qannoubin, an early seat of the Patriarchy. From Diman a steep path takes you down to the gorge.
Hasroun A red-roofed town that hugs the edge of the Qadisha Valley. This village known for its picturesque dwellings, old churches and gardens. A pleasant pathway descends from here past several ancient churches into the Qadisha valley.
Bgaa Kafra Reached via a turnoff from Bqorqacha is the highest village in the country at 1,600 meters. This picturesque town is also the birthplace of Lebanon's famous Saint Charbel, born in 1828.
Bsharre The hometown of Gibran Khalil Gibran.
Hadchit Dramatically perched on ledge over the gorge. Traditional houses and streets, the typical town square and some old churches.
On the old road between The Cedars and Bsharre a long path on the side of the cliff leads to the small Qadisha Grotto. Bellow the cave gushes out a powerful waterfall, especially full in the spring months. It is possible to visit the cave, which is lighted to show the limestone formation.
LEBANON'S HIGHEST PEAK You can ascend the 3088-meter high Qornet es-Sawda (or black horn) by foot or take advantage of a rough track suitable for four-wheel drive vehicles.